Valentine's Day is coming up!
Some people love it and some people dread it.  I'm usually somewhere in between, but this year, maybe with all the love growing in my belly, I got the desire to put up some heart window clings and paint my toes red.  Who knows, maybe I'll even break out the red food coloring and make a festive treat.
To commemorate my festive mood, I teamed up, once again, with ThreeWishesStudio to help give one lucky valentine some romance-inspired jewelry.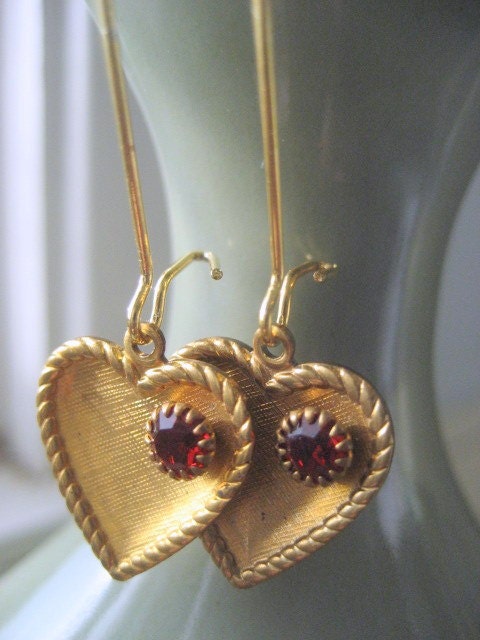 These earrings will be perfect for "Date Night", "Girls' Night" or even a "Anti-Valentine's Day Night".  And YOU have a chance to win a pair!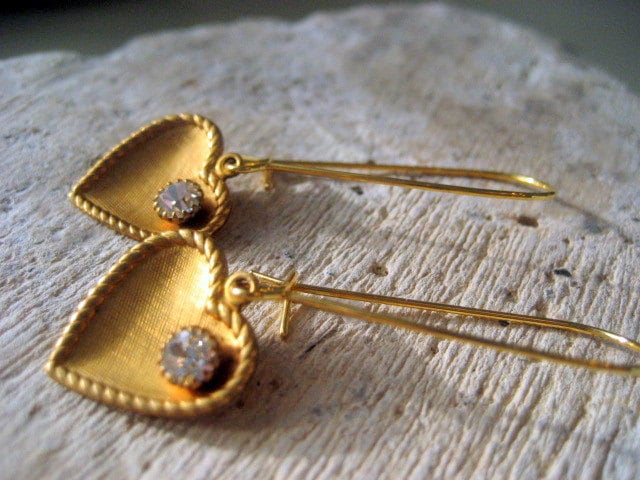 I love the vintage inspiration behind everything that Jeanne does!  These hearts have cute rope detailing around them and are accented with your choice of either a ruby or diamond-toned jewel.
So here comes the logistics:
One reader will be my valentine and win a pair of the Vintage Brass Heart Charm earrings from ThreeWishesStudio.
In order to win you MUST do the following:
- "Like" ThreeWishesStudio on Facebook (if you haven't already) and leave a comment on the photo of your most favorite item of her's.  Come back and leave a comment letting me know you did it!
If you want to add more chances to win, you can do any of the following and leave a separate comment for each:
- Tell me what your favorite Valentine's Day treat is
- Share this giveaway on Facebook and/or Twitter
- "Like" me on Facebook
- Follow me on Twitter
The contest will close on Friday, February 10th at 11:59 pm and my lucky valentine will be announced on Sunday, February 12th.  ThreeWishesStudio is extending this giveaway until Sunday, February 12th at 8pm!!  The winner will be announced Monday, February 13th!  
***And because Jeanne would like for everyone to feel the love on Valentine's Day, she is offering 15% off anything in her shop until February 13th.  Just use code FBsweet15 at checkout. ***
Keep on lovin'!